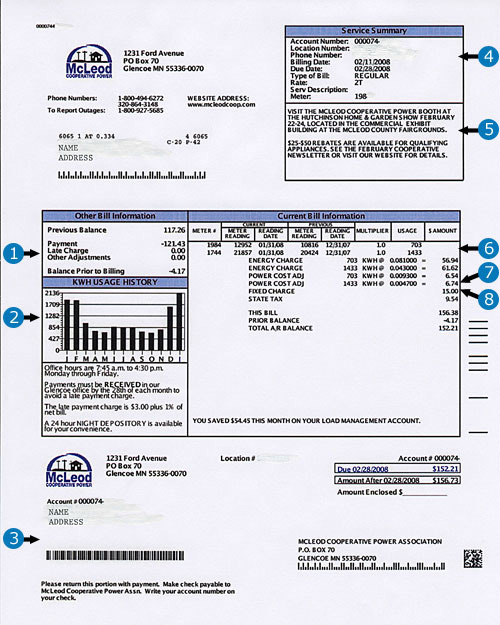 Helpful information about your electric bill from McLeod Cooperative Power.
Corresponding info to go with numbered arrows:
A summary of the previous month's account activity will include your account balance and payments. If your account is delinquent, helpful information on the Cold Weather Rule and financial assistance agencies will be printed on the back of your statement.
Your energy use in a bar graph for the past 13 months.
Please return the bottom portion of your bill in the return envelope provided.
Your account #, location # and telephone # are shown in this box. Please verify that the telephone number shown is correct.
Watch this area for messages from McLeod Cooperative Power.
Meter readings and energy use shown here.
Energy charge for general service and off-peak kilowatt-hours are itemized on separate lines. Energy rates are shown. Power cost adjustment for each rate is also itemized.
The monthly fixed charge is not related to the amount of energy you use. It covers the cost of having service available at your location. The Co-op's investment in facilities, such as pole, meter, transformer, etc. are included in the fixed charge. Maintenance of this equipment, customer billing and collection, and administrative services are also included in this charge.